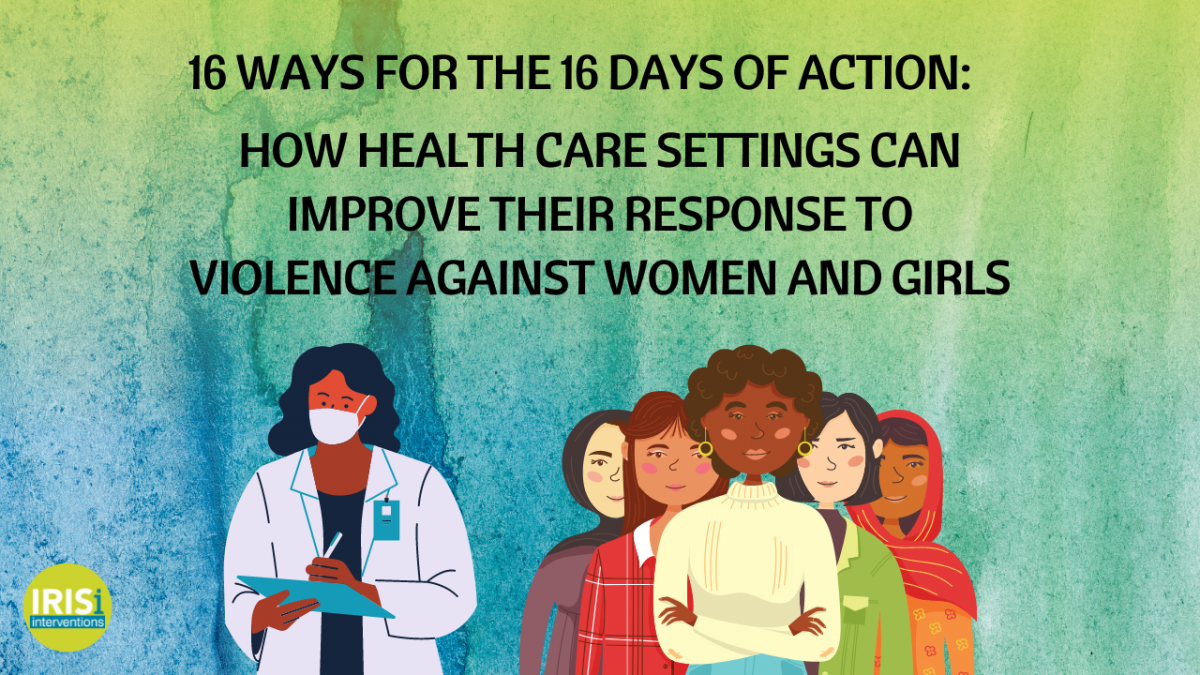 In 2021, IRISi's "16 Days of Activism against Gender-Based Violence" campaign will be themed as "16 ways for the 16 days of action: how health care settings can improve their response to Violence Against Women and Girls". Our aim is to reinforce how and why health care professionals have an undeniable and fundamental role in identifying victims and perpetrators so we can end violence against women and girls. In order to do that, healthcare interventions such as the IRIS and ADViSE programmes, which were developed by IRISi to enable these professionals to recognise Domestic and Sexual Violence and Abuse, can make a big and lasting difference.
The "Evaluation of the Identification and Referral to Improve Safety (IRIS) Intervention in the West Midlands", led by the research team at the University of Birmingham, gives a better panorama of this. The study was conducted with 21 women affected by DVA and who had received IRIS support. It concluded that the programme had impacted positively on their health. The main findings of this study will be presented to the local IRIS teams and stakeholders in the West Midlands on the 25th of November, in an event that marks the starting point of the IRISi "16 days" campaign, and then they will be shared widely.
The importance of the support given by IRIS Advocate Educators to service users is one of the main points of this research, so naturally, IRISi's "16 ways for 16 days" campaign continues by giving voice to some of our AEs, followed by some of our Clinical Leads, who will both present their personal and professional experiences on how programmes such as IRIS and ADViSE can directly help women affected by DVA, a matter that can no longer be neglected by the decision-makers in our health system.
For this reason, our 16 days campaign continues by providing details showing how and why the IRIS Programme is cost-effective, a strong argument to support its commissioning across the UK. On the 6th December, the IRISi team will present our Cost-Effectiveness Analysis (CEA) Tool, a platform developed by IRISi's Data Scientist that allows each site to easily calculate and present the cost-effectiveness of their local programme. To finish our campaign, we invited IRISi staff and board members to provide their views on "Why we do what we do", which will be launched on the 10th of December.
We hope you enjoy hearing about and getting involved with our campaign!
Don't forget to follow us on social media for updates and information throughout the 16 days; simply click on the links below:
Twitter: https://twitter.com/irisintervent
Instagram: https://www.instagram.com/irisintervent/
LinkedIn: https://www.linkedin.com/company/irisi-interventions
Facebook: https://www.facebook.com/IRISiUK
---