We are delighted to announce that our 2020 National Report is ready! Every year, IRISi collects and analyses data related to the IRIS programme to produce a complete report that shows exactly what has been achieved and what can be improved. Click here or over the image to see the document.
An important number to start with: Up to March 2020, a total of 20,544 women were identified and referred by IRIS trained clinicians as being affected by Domestic Abuse (DA), which enabled them to access support.
This report also includes early findings from the impact of the Covid-19 pandemic on IRIS services and to our service users.
"Between April 2019 and March 2020, IRIS programmes have received 4,943 referrals, totalling 20,544 referrals since the first site was commissioned in 2011. This number only reinforces how efficient the IRIS programmes are because it shows that, after being trained, clinicians' awareness of Domestic Abuse signs and symptoms increase considerably and they feel confident to ask women whether they are affected by DA. As a result, what once was almost an invisible disease for general practice starts to be seen – which increases the number of referrals and most importantly enables women to access the support they need", explains Medina Johnson, Chief Executive of IRISi.
Here are 7 useful things you may want to learn about what the IRIS Programme does and can achieve.
#01 IRIS Expansion
Since March 2019, 7 new sites have commissioned IRIS.
---
#02 IRIS Sites
From November 2010 to March 2020, IRIS programmes have fully trained more than 1,000 general practices in 48 sites across the UK. Currently IRIS is commissioned in a total of 34 sites.
---
#03 IRIS Trends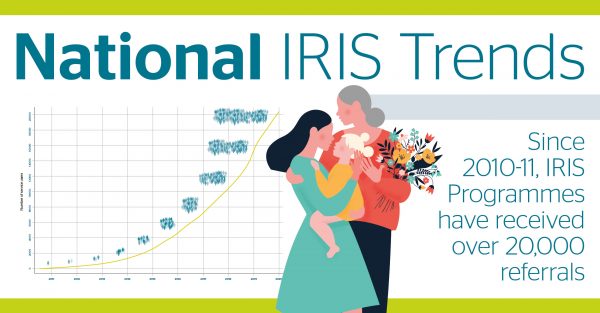 The number of referrals is one of the main measures of success of the IRIS programmes. The broad trend is an increasing number of referrals from each site over time, suggesting no reduction in the value of IRIS even after 10 years. This means the intervention is sustainable over time.
---
#04 IRIS Service Users
We collect information about the women referred via their local IRIS programme. We know, for example:
The average age of service users was 39.5 years; 8% were aged 60 and above
57.2% of service users classified themselves as White British, 13.7% of service users as Asian, and 10.3% of service users as British (other). Less than 5% classified themselves as Black/Caribbean.
59.1% of service users reported experiencing mental ill health, generally experiencing depression and/or anxiety.
---
#05 Types of abuse
We also know that the most frequent type of abuse experienced by IRIS service users was emotional abuse (68.9%), followed by physical abuse (59.3%). Almost all women have experienced more than one type of abuse.
---
#06 Relationship with perpetrator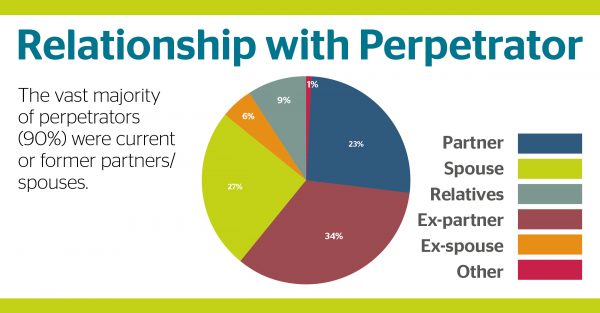 The vast majority of perpetrators (90%) were current or former partners/spouses. Current partners and spouses (50%) were more likely to be the perpetrator than ex-partners and ex-spouses (40%).
---
#07 Early findings on Covid-19
The Covid-19 pandemic brought about an important change in care services. We adapted from a fully face-to-face IRIS programme to a fully remote programme in only 3 months. And data already confirms that we did it properly. Only 16.7% of clinicians felt somewhat or very unconfident identifying and asking about domestic violence and abuse (DVA) during telephone/video consultations after being trained by IRIS Programmes online sessions.
---
Soon, we will go deeper into how IRISi and the IRIS programme have adapted to the Covid-19 pandemic during Look Beyond – our annual campaign focusing around the role that healthcare professionals play in the identification and referral of victims and survivors of DVA.
We would like to thank IRIS partner organisations, local IRIS teams, funders and commissioners for their support and flexibility.