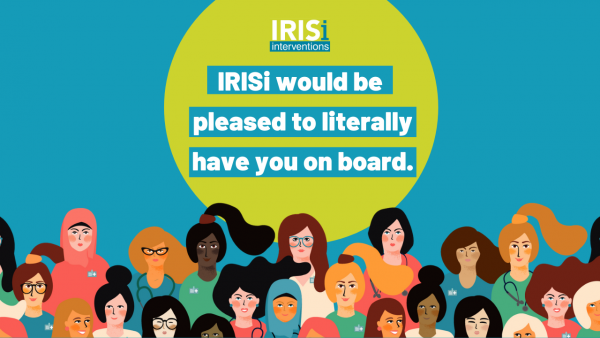 Do you have an understanding of the impact of violence and abuse on the lives of women and girls? Do you believe that gender-based violence should be recognised and addressed as a health issue? Would you be willing to devote the necessary time and effort to support us to achieve this?
IRISi, an award-winning social enterprise established to promote and improve the health care response to gender based violence, is looking to recruit further board members – and, if you match our criteria, you could be one of them.
Our Vision is a world in which gender based violence is consistently recognised and addressed as a health issue.
Our Mission is to improve the healthcare response to gender based violence through health and specialist services working together.
We are a second-tier organisation, usually providing services and support to other organisations, rather than delivering front-line services.
IRISi's flagship programme is IRIS (Identification and Referral to Improve Safety), a general practice based domestic abuse (DA) training, support, and referral programme. The organisation supports the local commissioning, implementation, maintenance, and growth of the IRIS programme. IRISi's work also includes bid development, training for trainers, ongoing support, national analysis, and monitoring. IRISi collaborates with partners to develop innovative, evidence-based health interventions for those affected by gender-based violence and offers expert advice and consultancy in the field of domestic abuse and health.
About the role
We are looking to recruit new people to our board who will be entrusted to ensure that the organisation works in the best interests of its mission, staff, and beneficiaries. IRISi is a not-for-profit social enterprise and a company limited by guarantee. Board members are ultimately responsible for everything the organisation does and must act in the interests of the organisation and not themselves.
We are looking for board members with a commitment to helping IRISi achieve its objectives including a world in which gender-based violence is consistently recognised and addressed as a health issue. You will have an understanding of the impact of violence and abuse on the lives of women and girls, a willingness to devote the necessary time and effort (including preparing for meetings, attending meetings and responding to correspondence), an ability to evaluate and interpret information, and a willingness to learn and maximise personal development.
About you
We need people who demonstrate good independent judgement and have the ability to express constructive opinions. We need you to have an ability to think creatively in a problem solving/strategic way, a willingness to accept the legal duties, responsibilities, and liabilities of being a board member, an ability to work effectively as a member of a team, and objectivity, accountability, openness, and honesty.
We are an inclusive organisation, committed to ensuring our Board and staff team reflect the diversity of the people we serve. We warmly encourage applications from individuals from a wide range of backgrounds, from younger adults and across all the protected characteristics. We welcome applications from first-time board members.
After a recent skills gap analysis and equalities monitoring of the Board, we are particularly interested in new members who have experience gained through personal or work life that may be relevant to IRISi's work, including being a survivor and/or working in the field.
People with:
Financial knowledge and experience – especially in relation to budget development and management.
Knowledge and experience of commissioning services within the local government sector.
Strategic experience of the health service in terms of decision making and commissioning.
Marketing and communications experience.
How to apply
Please read the full details below. To apply to become an IRISi board member please return the following application form by 12th of February to info@irisi.org.