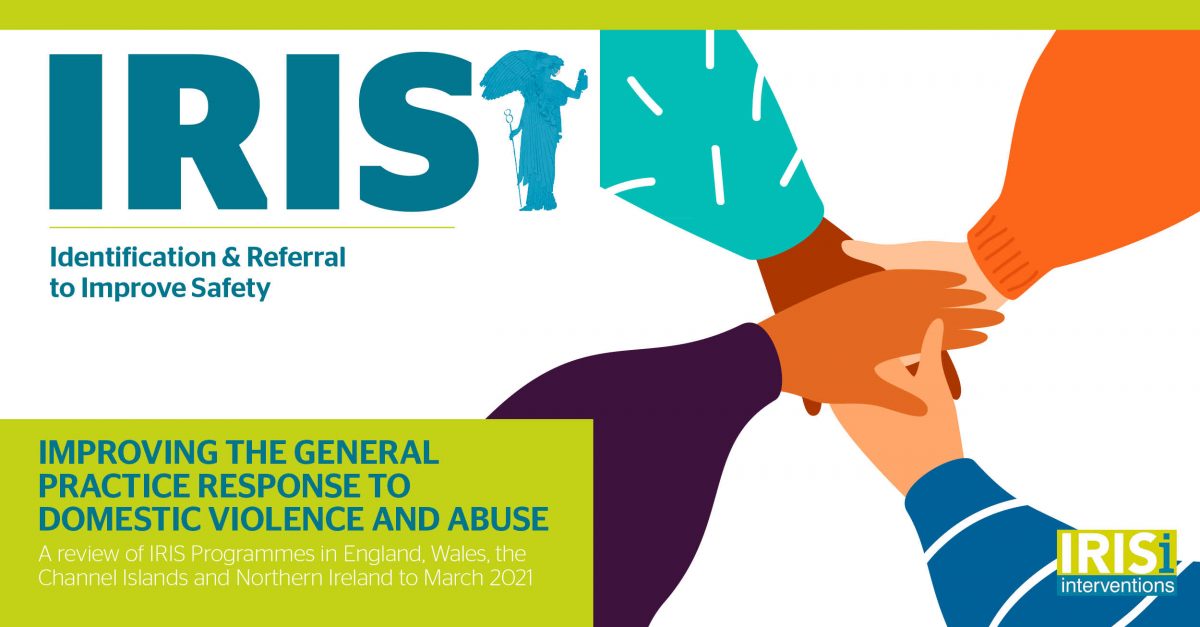 Identification and Referral to Improve Safety (IRIS) is a Programme of training and support to improve the response to Domestic Violence and Abuse (DVA) in general practice. It has been proven effective and cost-effective in a cluster randomised controlled trial and in the real-world NHS.
The IRIS Programme provides in-house training for general practice teams, DVA health education materials and ongoing support. Crucially, the programme also provides a direct referral pathway to a named advocate educator (AE) who is based within a local, specialist DVA/VAWG service. The AE is embedded in the work of each practice and becomes a peripatetic member of the practice team. Training is co-delivered by the AE and a clinical lead, who is a local clinician and a champion for IRIS within the practice. The IRIS Programme is commissioned across areas of England, Wales, the Channel Islands and Northern Ireland, where it is delivered by local IRIS teams.
IRISi is a social enterprise established to promote and improve the health care response to gender based violence. A national, not-for-profit organisation, IRISi provides areas with the IRIS model, training package, updates to the training, and support to commission, implement and maintain the Programme.
In 2021, IRISi launched its second intervention, ADViSE, to support sexual health clinicians to identify and respond to women affected by Domestic Violence and Abuse (DVA) and Sexual Violence (SV).
Here are some of the main findings presented in our latest National Report:
Between April 2020 and March 2021, IRIS Programmes have received 4,979 referrals, totalling 25,523 referrals.
In the fiscal year ending in March 2021, 6 new sites have commissioned IRIS. While every site is unique, we continue to support each one to increase the identification and referral of Domestic Violence and Abuse to improve the safety of service users.
In total, 54 sites have commissioned IRIS since November 2010. There were 39 sites actively referring to IRIS between April 2020 and March 2021. This is the largest number of active sites since the IRIS Programme became commissionable.
As per previous years, we have explored patterns in terms of the average number of referrals across all areas after the first referral was made. The number of service users referred is the total at the end of each period, and the first year is split into quarters Q1 to Q4, each composed of 3 months. The broad trend of referrals continues to be increasing, suggesting the IRIS Programme remains effective for more than 10 years.
There are currently 1,104 fully trained and actively referring practices. In total, 1,275 general practices have been trained across the UK since 2013.
The average age of women referred to IRIS was 40 years old. 52.5% of women referred classified themselves as White British, while 18.2% classified as Black and Asian British, 12.5% Asian and 2.3% Black/Caribbean/African.
97.4% of IRIS referred clients report being heterosexual, in line with previous years. 46.8% of women reported having no children.
Compared to last year, there has been an increase in the proportion of women reporting no faith (48% for 20/21 compared to 43% in 19/20). Additionally, 24% reported being Christian while 22% were Muslim.
More than 1 in 4 women referred to the IRIS Programme reported physical health problems (27%). On average 54.3% of services users reported mental health concerns.
The most frequent type of abuse experienced by service users was emotional abuse (43.5%), followed by physical abuse (37.6%) and psychological abuse (37.2%).  More than 3 in 4 women (77.3%) experienced multiple forms of abuse.
Service users disclosed that the vast majority of perpetrators of abuse (90%) were current or former partners/spouses. There is a fairly even split between current partners and spouses and ex-partners and spouses.
Throughout the year, most women were supported remotely (68.5%), although face-to-face support began being offered again in line with government guidance. In total, just 67 women were supported in-person (1.4%), while 939 women accessed both in-person and virtual support (21.4%) – a blended approach.
The most frequent type of support provided to service users was emotional support (37%), followed by advice and information (26%).
---
To read the National Report in full, please click below:
---