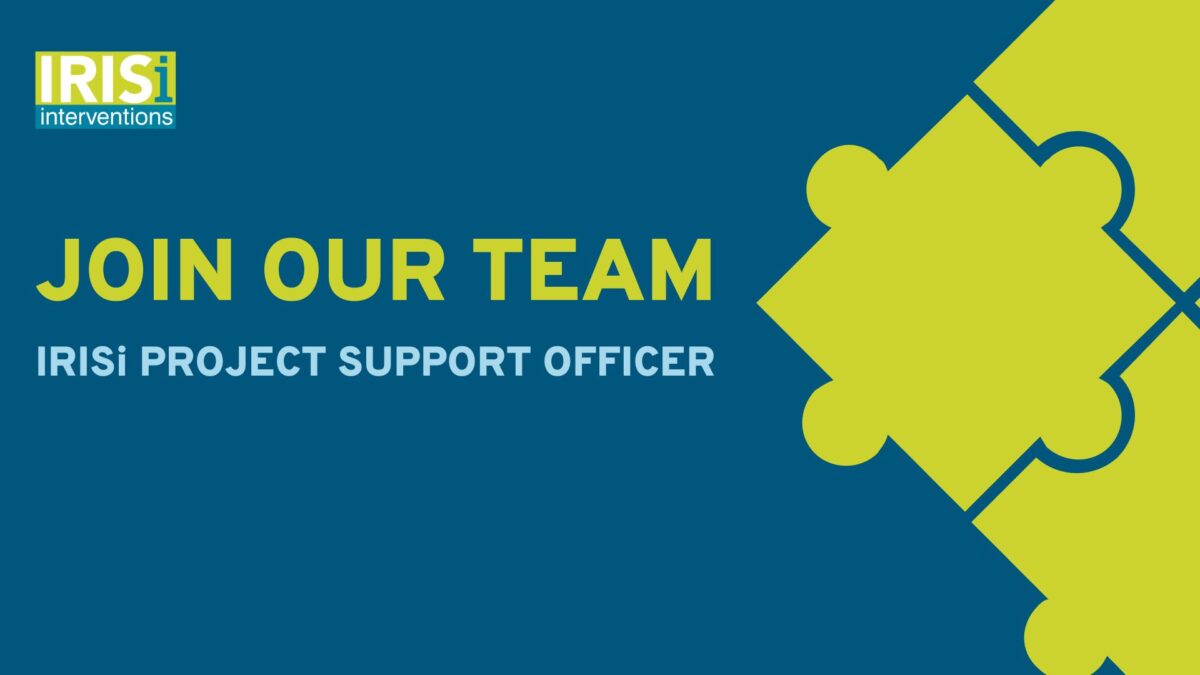 Salary: £26,845-£28,371 p.a. according to skills and experience.
Hours: Full-time (35 per week).
Location: Home-based with occasional travel to meetings in London and IRISi Bristol office.
Annual Leave: 25 days p.a. plus 8 bank holidays plus closure over Christmas and New Year.
Pension: 3% pension contribution (paid after three months).
Probationary period: Four months.
Tenure: Fixed term to 31-3-25.
Employer: IRISi.
Reporting to: Contracts & Programme Manager, IRISi.
About us
IRISi is a social enterprise established to promote and improve the healthcare response to gender-based violence. Our work includes facilitating the widespread adoption of the IRIS model and other evidence-based health and domestic violence and abuse (DVA) programmes, including ADViSE.
IRIS is an evidence-based, general practice-based DVA training, support and referral programme. Core areas of the programme are training and education, clinical enquiry, care pathways and an enhanced referral pathway to specialist domestic violence services for patients with experience of DVA. IRIS is commissioned in sites across England and Wales. ADViSE is our adapted programme for sexual health settings.
IRISi values
We are collaborative and work in partnership.
We are committed to improving practice and to delivering high-quality services.
We are committed to promoting equity, diversity and inclusion, and to cultivating a sense of belongingness.
We are passionate and devoted to our cause.
We believe that hope, strength and resilience are the foundation of our work.
About the role
This post is the opportunity to provide project support to IRISi's Contract & Programme manager and support the delivery of our programmes of work, principally the delivery of our flagship intervention, the IRIS programme, in six new IRIS sites in London, and three new IRIS sites outside the capital. This is a great opportunity to be part of improving the healthcare response to domestic abuse and to join a small, ambitious, and dedicated team at IRISi.
About you

The project support officer will be responsible for supporting the Contracts & Programme manager with contract and programme management strategy and delivery, along with developing strong working relationships and contacts. These relationships will be with internal colleagues, programme funders, partner agencies and their representative bodies, and statutory and third-sector partners. You will also develop and maintain partnerships with other organisations to further strategic goals.
The project support officer will also act as the first point of call for programme queries, responding appropriately to simple queries, and escalating more complex queries to the appropriate manager. In addition, the project support officer will also provide key administrative and project support, including maintaining databases, drafting reports and meeting planning; invites, agendas, minute taking etc.

---
We are an inclusive organisation, committed to ensuring our Board and staff team reflect the diversity of the people we serve. We warmly encourage applications from individuals from a wide range of backgrounds and across all the protected characteristics.
To apply, please get in touch with Sally Harrison at sally.harrison@irisi.org.
Application deadline: Wednesday 11th October – 5pm.
Interviews via TEAMS: Thursday 19th October.